Slowed Rotor Compound, or SRC, aircraft are a hybrid between an airplane and a rotorcraft.  Carter pioneered this technology, and has now transferred the intellectual property to Jaunt Air Mobility.
SRC enables the speed and efficiency of an airplane with the vertical takeoff and landing of a helicopter.
Large rotors are the most power-efficient configurations for hovering and vertical takeoffs and landings.
The constantly turning, high inertia rotor can function as a built-in parachute at any altitude or airspeed, and allow the pilot to choose their landing spot for a soft, zero roll landing even in the event of a complete power failure.
The low rotor rpm throughout the flight envelope reduces noise to levels barely perceptible above normal city traffic.
The low drag rotor mounted on a tall mast supported by soft supports makes for a ride as smooth as a fixed-wing airplane.
The Basics of SRC
A rotor is a very efficient device for providing lift in hover and at low speeds, but in a conventional rotorcraft, its drag increases rapidly as the aircraft goes faster. In SRC aircraft, as the aircraft speeds up and the wings begin supporting the aircraft, the rotor can produce less lift and be slowed down. The reduction of rotor lift and lower rpm significantly decrease the rotor drag – a three fold reduction in rpm results in approximately a 27 fold reduction in rotational drag. The rotor drag at very low rpms and low lift basically becomes a function of its area and the speed of the aircraft.
Wings sized for high speed are very efficient, but can't provide enough lift as the aircraft slows down. In most aircraft, the wings are sized significantly larger than they need to be in cruise so that the pilot can fly slower for landing. Most airplanes also have some type of high lift device such as flaps, which improve low speed performance but add weight and complexity to the wing. SRC aircraft have a very simple wing, sized much smaller than a conventional aircraft of similar size, because the wing only needs to support the aircraft at high speeds.
The combination of the slowed, unloaded rotor and the simple, small wing allows SRC aircraft to operate so efficiently – comparable to fixed wing airplanes, and much more efficient at high speed than any conventional rotorcraft.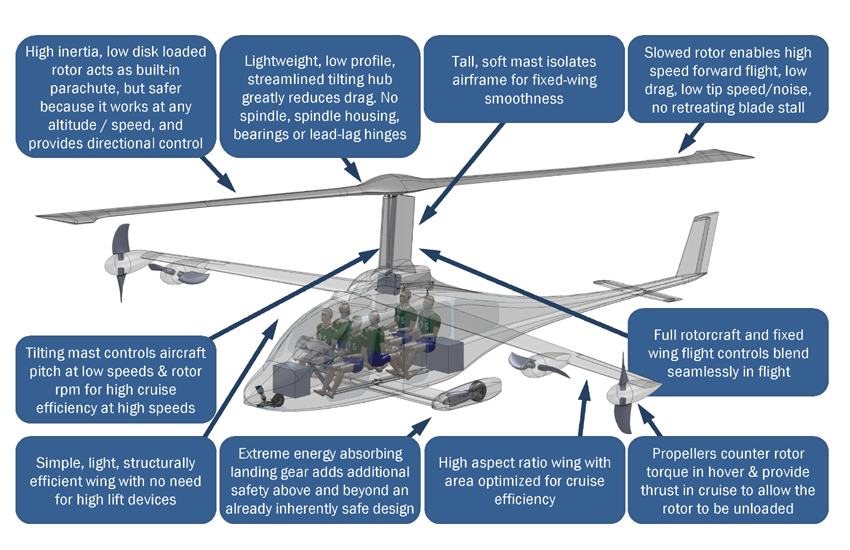 Scalable CarterCopters for a Broad Range of Applications